Contact Us
Nancy E. Bane, CPA
Partner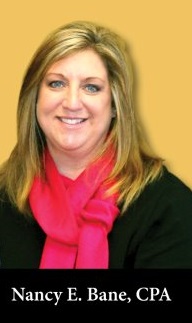 (615) 444-9300
ext. 2
Email:
Loading Email...
Nancy is a Certified Public Accountant. She brings to the firm years of experience providing expert tax and accounting guidance to our clients. Nancy consults with new business clients of all sizes regarding the type of entity choice, tax structure, and their bookkeeping/accounting needs.
Nancy loves to educate people in basic bookkeeping and taxes. She believes that if her clients are more educated about how transactions affect their financial statements, cash flows, credit ratings, and many other financial and tax aspects, her clients can make better, more informed decisions to grow their business.
Nancy is also an advocate for educating our youth to make sound financial decisions while they are young. That's why she teaches an accounting class at one of the local high schools here in Lebanon.